WarSaw Games is a studio from… Warsaw and tomorrow – with the help of publisher Fat Dog Games – will release their debut game, Dream Alone, on Steam and Nintendo Switch. We've used this opportunity to ask them a few questions right before the premiere!
---
The Settled Down Gamer: You raise the bar high, drawing from the legacy of Limbo, Inside or the works of Tim Burton. Aren't you afraid this could backfire? That players could think Dream Alone is plagiarizing known and well-worn concepts?
Tomasz Róziecki, Co-Founder WarSaw Games: Limbo and Inside are definitely great and inspiring games. However, Dream Alone is nothing like Limbo, apart from its black and white color scheme. From the very start, we tried to escape comparisons to other works through original gameplay solutions – like through the protagonist's special powers, which make our title original and different. This introduces a very distinctive mechanic and allows us to design the game around puzzles, so the player doesn't feel they're playing Limbo or Inside.
At the same time, it's nice to be compared to such classics. Tim Burton vibes, however, are a wholly different matter. From the very beginning we had the idea to build everything in that climate. We love this style and I think such cutscenes perfectly complement the black and white gameplay.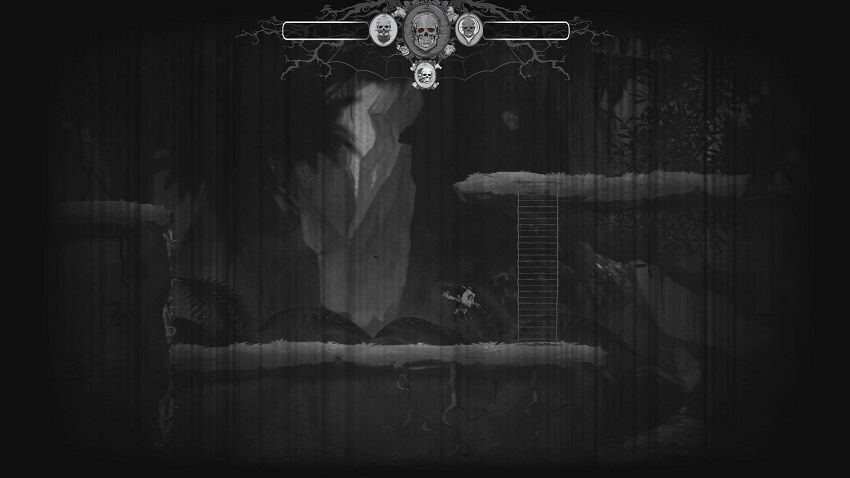 The Settled Down Gamer: The plot outline seems interesting – the lone wanderer Irra travels a dangerous world, trying to find the legendary Lady Death in hope of (pardoxically) curing his loved ones. Can the players count on clever twists and storytelling that will make Dream Alone stay with them a little longer?
Tomasz Róziecki: No doubt! At first glance, the story seems simple and obvious, but I think many will be surprised by its finale. I don't want to divulge too much, but I'd say the protagonist's name is not accidental. 🙂
The Settled Down Gamer: We know that one of the main gameplay elements will be solving puzzles based on the protagonist's ability to switch between dimensions – which allows him to delve deeper into the precarious world he's exploring. What other puzzles will await in the final version?
Tomasz Róziecki: The puzzles were designed around the hero's abilities. One of them is the power of light, used to carve a path in impenetrably dark terrain. Another one of his powers interconnected with the puzzles is the ability to clone himself, which he can use to solve conundrums that require him to be in two places at once.
There will also be puzzles requiring using all of our hero's abilities – like jumping into another reality to leave a clone there to hold a lever that will activate a platform in the other dimension.
The Settled Down Gamer: How long will the main plot take to finish? Are you happy with the game's length, or did you think that it should be adjusted?
Tomasz Róziecki: A first-time player of Dream Alone should count on 15 to 20 hours of play. The length depends very much on one's manual ability – it's very difficult and doesn't forgive mistakes. I think we're happy and that players won't be left wanting.
The Settled Down Gamer: Since your game is coming to Nintendo Switch – a console still struggling with having a large enough library – we'd like to know about your plans for other platforms. Do you plan any other conversions and if yes, when can we expect them? Not to pry, but the graphics on your official website seem to suggest something…
Tomasz Róziecki: Nintendo Switch definitely became the leading platform at some point and we wanted for the game to premiere on it. The game will of course release on PC on June 28th. We do have plans for Xbox One and PS4 ports, which should arrive in Q3 / Q4 2018.
The Settled Down Gamer: What was the biggest challenge during development?
Tomasz Róziecki: When we were starting with Dream Alone, all of us were working for big corporations, game dev was just something we did after hours. I think that was the biggest challenge, we had to face our own lack of will or strength to just do something extra.
Looking at this after time, I think this effort paid off. The game is finished, we're a few days before the premiere and I'm super proud, that our first joint effort ended up on the Nintendo Switch.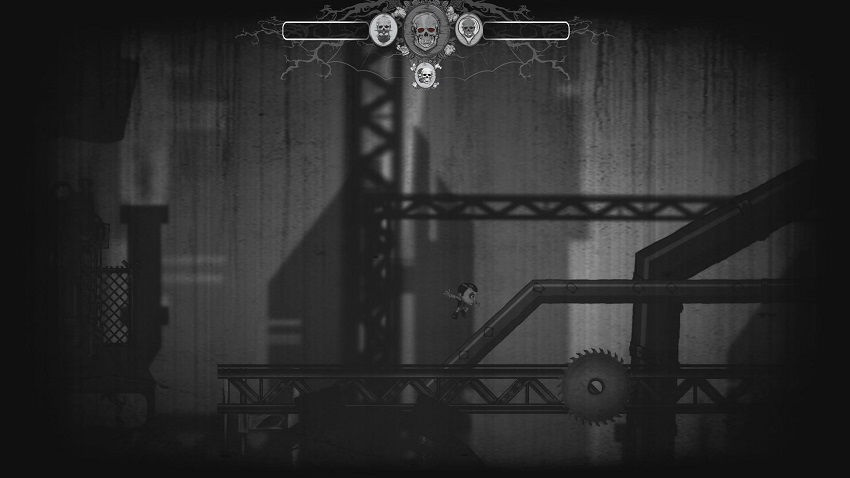 The Settled Down Gamer: Was there ever a moment where you felt like giving up on this project? Or did you always had a clear view of what you can do and gave Fat Dog Games a proper timeline?
Tomasz Róziecki: Honestly? No. There wasn't even a moment of doubt. We knew what we signed up for, what we wanted to do and for how long. The schedule we presented to the publisher was clearly specified and we realized it with no complicatons.
The Settled Down Gamer: How would you entice our readers to buy Dream Alone?
Tomasz Róziecki: Dream Alone is fun for everyone. Contact with players at various convensions and expos taught us that even the youngest ones can have a ton of fun with our game. If someone misses the classics from the '90s, I bet they'll love Dream Alone. In my view, it's a fun combo of retro with new approaches. And who knows, maybe finishing Dream Alone is just the beginning of the adventure in this dark world?