It's been almost four months since our last proper look at the best Polish mobile games. Over those days, a couple apps went through my smartphone's memory,but only now I've amassed an amount of games respectable enough to share my experiences with them. Such compilations appear regularly here at the Settled-Down Gamer, so if you're interested in what's going on at the Polish mobile gaming scene, this series is just for you!
In this episode, fans of arcade games are in for a treat.
Fern Flower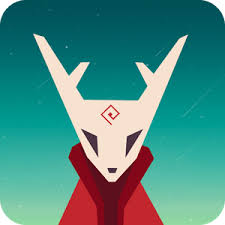 Arcade games with simple controls are one of my favorites when talking about the mobile landscape. They allow me to relax practically anywhere, without fear that complicated movements will ruin any fun. Fern Flower is an arcade game inspired by Slavic mythology about the search for the eponymous, legendary plant; the game was made by Macaque, a studio of just two people.
Four members of the animal kingdom are searching for the mythical flower: Doe, Aurochs, Raven and Fox. It entails embarking on a wild climb up a vertical wall while avoiding rifts, holes and other obstacles, while simultaneously chasing after fireflies and the titular fern flowers. The gameplay of Fern Flower consists of tapping the screen in the proper rhythm – hitting left moves your character to the left, analogically with the right side. I've asked the authors a couple of questions; here's Paweł Mąka on behalf of the duo.
The Settled-Down Gamer: As you've said yourselves, Fern Flower is inspired by Slavic mythology. Where did that idea come from?

Paweł Mąka: We've often went on trips to the Ślęża mountain. It was an important place within Slavic culture, where the traditional search for the fern flower took place. When we were coming up with Fern Flower's gameplay, we were reminded of that place's atmosphere and we decided to have a go at representing its mystical nature.

The Settled-Down Gamer: What was the biggest challenge during development?

PM: Paweł Mąka: We didn't have one single problem while making the game. As a two-man team, we had to take care of every single aspect of production, not necessarily with much experience in some of them – that was the challenge. But learning new things gives us a lot of satisfaction.

The Settled-Down Gamer: Can we expect new characters?

PM: Paweł Mąka: Absolutely. We've recently released an update with the fox and we plan to add more to our games over a longer time.
Every session is different, since every level is generated randomly – so no way of getting bored of them. Apart from normal obstacles, you'll have to face strong gusts of wind, which make timing and aiming jumps a lot harder, as well as crumbling ledges and snowy ridges, which make your jumps a lot weaker. Of course, the higher you go, the tougher it is to keep at it. The gameplay requires focus, and getting high scores is very satisfying. Your climb is aided by power-ups: a super jump, which is self-explanatory, and a magnet attracting fireflies. The titular fern flowers also serve as your currency, which you can pay with for new characters and continues.
If you're into arcade games, you should definitely grab Fern Flower; it's also easy to recommend to your kids, as long as they can work your phone. Macaque's game is pretty and satisfying – it just can't fail to be enjoyable.
Fern Flower works well on Android and iOS devices.
Game of Shadows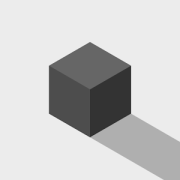 During my neverending adventure with video games, I've encountered hundreds of apps respectably representing the Polish mobile scene. Often, they're extremely simple titles by small indie devs – what's notable is that a lot of them keep me around for a lot longer than the short time it takes to install them and have a brief look. Game of Shadows is one of those games, made by BluMax: a two-man studio formed by Max Gacek and Dawid Blumczyński.
Your protagonist here is… a black square. Quite the character, a living tale. Jokes aside, the idea for the game is interesting enough that it shouldn't bother you. Game of Shadows requires you to steer said square to reveal initially hidden details in the environment. While moving, the main hero releases smaller rectangles, which tag any obstacles in their way. This way, slowly but surely you can uncover your way out. Of course, it gets harder the deeper you go. The inventiveness of Game of Shadows' level and puzzle design deserves special praise. For example, one level requires killing your character off to proceed, or a section with reversed gravity playing tricks on your mind, making it much harder to avoid dangerous spikes or saws.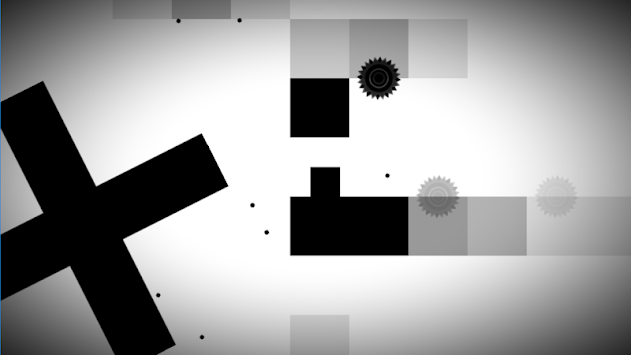 "BluMax is just two people. We work remotely, I'm from Kłodzko, Dawid lives in Konin. We've made games previously, both for desktops and models, but Game of Shadows is the first to be released on Google Play. It took as 6 months to make it, the main part of it went fast, but we spent a lot of time on polishing and straightening out its details.

Optimizing the game was the most problematic. We had to reduce the particle effects a bit, as well as the maximum number of objects on the screen. Another challenge was design levels which would deeply engage with the mechanics, guiding the player to think outside of the box." – Max Gacek, BluMax.
Game of Shadows is a simple, but engaging arcade game I can safely recommend to just about anyone. Discovering the route to the next teleporter is satisfying, while failures in no way discourage from taking another crack at every of more than 20 well-designed levels.
You can try the app for free and if you like it, you can buy the full version for a small fee for Android.
Runventure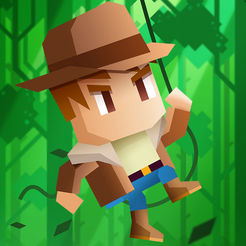 I began my adventure with video games with cult titles such as Pitfall; I grew up as a gamer with this series of games about a brave adventurer. Understandably, I can't just walk past a game even remotely correlated with a classic like that – and if it's by a home developer…
Digital Melody, a talented team from Grodzisk Mazowiecki, previously appeared in the 23th edition of our Polish mobile games series, when I took a look at the very engaging Find the Balance. This time, the Poles decided on an arcade game in which you pay as a treasure seeker.
"The idea for the game came from our attempts at playing platform games on mobile devices. Most developers utilize a virtual console pad drawn on the touch screen. The other idea is to reduce the controls to just one activity performer with a simple tap. As a result, we've got a lot of games where the character just runs along and the player only decides when to jump.

We were wondering if we can design a control scheme which isn't just a direct adaptation of what works in stationary console games, but one which at the same time doesn't restrict the player's freedom of movement. Touch screens rely on gestures, so we decided to minimize the number of said gestures and that's how the concept of the RunJumper Bar was born.

It was an experiment we decided to expand upon to see how our idea will fare against tried and true methods entrenched for years in mobile games.

We decided to put this concept in a world where the player wouldn't feel confused about a previously unseen control scheme. The main character is a relentless adventurer named Justin, who navigates haunted castles, jungles or abandoned temples filled with ghosts, skeletons or killer piranhas." – Paweł "Kitek" Kitajewski, Art Director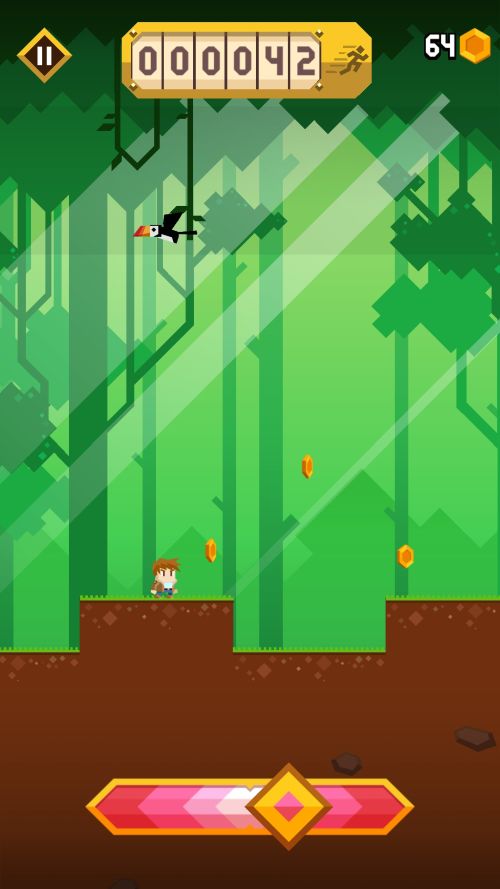 Your goal in Runventure is to collect gold coins while avoiding lethal traps and vicious creatures. You will visit a jungle, dive deep into a mysterious underground lair, a dark forest and freeze your ass off in a land of ice – all while jumping over pits, swinging on ropes, avoiding spinning blades and other obstacles, all of which requires a proper sense of rhythm. Runventure is an app that will test your thumb's endurance. The simple control schemes makes things a lot more accessible, but it requires a while to master. You control your character by sliding your finger over a special scale. The further to the left or right, the faster Justin is running; but you have to remember that at the same time, your charging the force of your jump. This is where things get dicey: your first instinct to stop the protagonist would be to take your finger from the screen, which results in him launching into the air (and in many cases, painfully dying afterwards). To stop, you actually have to move your thumb to the middle of the screen. It takes a while to get a hang of, but it works fine after a bit of practice.
"The biggest challenge was designing a system for generating random levels from pieces. We had to sync up the behavior of the dynamic backgrounds, "decor" generation and connecting obstacles of varying difficulty levels (definitely the toughest part) so that every stage looked and played well." – Henryk Kaufman, Programmer
The app, apart from scenic locations, offers dozens of characters to unlock. Most of them you'll recognize from games and pop culture; as such, Runventure features folks like Sarah Loft, Gon Soku, Santa Claus or even Gepetto. Apart from different designs, they also differ by the difficulty of stages they have to beat. They also feature up to three individual tasks to finish, which levels them up, such as collecting a set number of coins or running a specific distance.
"We'd like to build up the world of Runventure as far as we can. We're currently collecting feedback from players from around the world. In future updates, we plan to add characters, worlds and designs we couldn't fit in before release." – Paweł Jędrysiak, Game Designer
I can recommend Digital Melody's game to you and your family, but due to the significant difficulty level and a challenging control schemes, Runventure is a hard sell to the youngest audiences – they'll likely to get frustrated with multiple failures. However, the gameplay is satisfying, and the wide range of characters (and consecutively, levels to finish) ensures that the app will last you a lot longer than a single evening.
The game runs on both Android and iOS devices.