Poles can make some damn good games for mobiles devices, which I've had a chance to learn many times over. Time for the next batch of titles you should take a look at, if you like games for phones or tablets.
This time: three titles among the best Polish mobile games.
April Coloring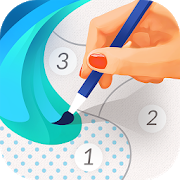 It's hard to call Crimson Pine Games' latest app – whose works I've written about several times already – a video game per se. That's because "gameplay" consists of… coloring pictures. It sounds quite banal, but April Coloring can really suck you in.
Actually, I took an interest in this sort of play thanks to my mother-in-law: she likes to spend her free time just sitting comfortably and coloring a nice landscape or cute animal. When she showed me a similar app I was, to say politely, skeptical. But when I took the tablet to try it for myself, I disappeared for half an hour, gradually putting colors into a picture of flowers. So when I was informed that Crimson Pine Game have released a similar "game", I downloaded it immediately.
Playing April Coloring consists of coloring in specific parts of a chosen picture. They are numbered and every number corresponds to a particular color. If even once in your life you've helped a child with a "color by number" style coloring book, you'll get it. First you choose a color, then you find the corresponding zone on the screen and color it in with your finger. By coloring, you earn blue stars, which raise your level and unlock new images. You also get gold coins, the local currency which you can use to – of course – buy more pictures. There is a lot of those images: over 1,700 and that number is still rising.
April Coloring is surprisingly engaging. Coloring in the different pictures is satisfying and doesn't get boring. However, Crimson Pine Games' has some annoyances: long loading times and sudden framerate drops. Still, I can easily recommends this one to whole families. Show it to your kids and I bet they'll have a blast with it.
You can install April Coloring on Android, iOS and Kindle devices.
Bridge Strike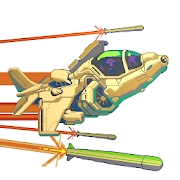 If you, like me, remember River Raid, then your childhood was pretty fucking rad. I've spent a lot of hours with Activision's cult classic, even though I never really finished it. Over the years, I played a lot of more and less successful RR clones. Lately, I checked out Bridge Strike by the Polish studio Project R3D.
In Bridge Strike, you control a fighter jet, destroying practically everything which happens to unluckily land in your sights. You steer the vehicle with your left finger and shoot with the right one. On the way, you manouver around obstacles and collect fuel drops. That's about it – and I'm not complaining, because damn if it isn't absorbing. I can't remember how many "just one more levels" I've spoken, only to set the phone down after two hours.
The authors made sure you won't get bored with Bridge Strike too soon. Apart from the classic endless raid where you have to survive as long as possible, they've also cooked up a campaign, during which you have to perform a series of missions; mostly boiling down to destroying all enemies or bridges. Taking out targets earns you gold coins, which you can spend on new jets.
Visually, Bridge Strike utilizes classic pixel art, which doesn't mean it's a cop out; the authors made sure to include changing backgrounds, but also dynamic weather. Thus, you can fly through a snow- or thunderstorm, dodging lightning strikes. Project R3D served up a wide range of enemies. Starting with helicopters, through blimps, planes, ships and even submarines. Sometimes there's truly a lot happening on the screen; many times you'll have to excercise a monkey's cleverness to shoot down an opponent, grab a gold coin, avoid destroying a fuel tanker and yourself on a cliff – all at once.
I recommend Bridge Strike wholeheartedly – it's a honey-dripping mobile game you'll spend a lot of time with. Especially thanks to the ranking system, which will keep you snatching new high scores after you think you're done with the game.
Bridge Strike is availble on Android and iOS devices; on June 5 it will premiere on Nintendo Switch.
Shattered Plane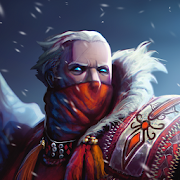 Turn-based strategy is not among my favorite genres and I generally avoid them; as such, I approached Eremite Games' Shattered Plane without much enthusiasm. I've quickly realized my mistake…
I was bought by the game's universe alone. Shattered Plane takes place on Elear – a once peaceful world, now a battleground in a war between Slavic demigods leading armies of fantastical creatures. The campaign is very interesting. Over the course of 24 missions, you will play as gods such as Svarog or Perun, controlling not only humans, but also werewolves and armies of the undead.
The battlegrounds are divided into hexes, allowing movement in six directions, with the caveat that different terrain comes with different difficulties: crossing a river eats up more of your energy than traveling on plains. Taking over settlements, towns and villages is very important. This is where new units spawn into your army on every turn. Practically every task boils down to annihilating the enemy, although the campaign features some quite interesting missions, including defending or escorting a specific unit. Combat is governed by simple rules. You choose a unit and attack your enemy – the larger army with more morale wins. Units can also be upgraded by grouping them together.
Every single one of the six Patrons offers different special powers you can utilize during play. They can only be used a couple times, which necessitates carefulness. For example, Svarog raises all of your units' morale, while Perun causes a given unit to become indestructible for the remainder of the turn. Eremite Games made sure the gameplay is mechanically simple, but allows for more complex strategies. Apart from the campaign, you can also play a quick game, where you just choose your Patron, setup gameplay parametres and in just a few moments you're ready to play. There are also ranking games available, as well as Hot Seats. In this last mode, you can – like in good old Heroes of Might and Magic – play together with others, exchanging a single phone on every turn.
Shattered Plane is a very pretty game. The maps are detailed and the units look frist class. Most importantly – everything works fluidly, without technical issues. The audio design is also worthy of praise: both the music and combat sounds.
I've spent more than a dozen hours with Shattered Plane and I'm still not done with it. From time to time I start up a quick skirmish and I'm sure that Eremite Games' app will stay on my smartphone for a long time.
Shattered Plane is available for both Android and iOS devices.