This is the English language version of an interview initially conducted in Polish by Piotr Sikorski.
---
This War of Mine, Frostpunk, Beat Cop, Anomaly, The Witcher 3: Blood and Wine… These are just a few, but perhaps the most famous titles that Piotr Musiał worked on. The incredibly talented artist spoke to us at length – at such length, in fact, that we had to divide it into parts. We hope that reading it will be as fun to you as it was for us to conduct it.
Thank you for agreeing to this, Piotr. To start, please tell us how did it happen that you've ended up with a career in music and that video games became an object of your interest?
I've exhibited some attraction to music from childhood. My dad is a musician, so it's largely to his credit. Not only it's in my genes, he cultivated that – by tiring the family out with concerts and recordings of brass bands, in which he often played as a trombonist. We also had this toy piano at home, which me and my sister (who, by the way, plays the saxophone and has an arts degree) played a lot.
I've played my first melodies on that piano. I loved to sit down and play something from nothing. And not necessarily a familiar melody, unlike most other pre-school kids I analyzed what I played and tried to make it better. You could say that those were my first compositions. Some of them I recorded on a tape recorder, I think I still have some of those somewhere in the basement.
In primary school I landed in a musical class, where I sang in the choir. After a few years I've announced to my parents, that I want to learn at a musical school, and that I want to learn the concert flute. At the exam it turned out that the school magazine ran out of those, so I chose drums. And it's good that I did so, because it's a very enriching, varied instrument with interesting musical literature.
In the meantime, I learned to work with trackers and midi. Computers were my other passion. I learned how to program in Basic and I made my own games, just for fun.
But back to music. After all that, it went fast – musical high school and instrument studies. But at the same time, I constantly developed my curiosity and passion for composition, so in college I already knew what I was going to do. I will compose music for movies!
But it was also impossible for a musician not to notice a new, dynamically developing medium. It was the '00s and games began to have more and more interesting soundtracks. One of them was Starcraft, which made me interested in the idea.
On internet forums I've met folks who were doing the same thing as I – they composed, looked for ways to get into the industry of making music for film, ads, games. That's where I met Michał Cielecki, with whom we made our first game projects. He helped me get deeper into the topic and recommended me to City Interactive. Around the same time I also met the guys from Metropolis Software and made the music for "They". It turned out that my timing was perfect. Despite Metropolis shutting down and the project getting cancelled shortly after, we met again. This time at their fresh new company, located in a small apartment – 11 bit studios.
Safe to say you found your place in the world. You're quite a versatile artist. Apart from video game music, you also compose for TV shows, movies, ads and trailers. Which area gives you the most satisfaction and why?
I like working on different projects and every single one gives me something different. Film is a very inspiring medium for me. That you have to fit into a certain mood and narrate something is insanely satisfying. There's so many interesting aspects of working on film. For example, sometimes you have to decide which character you'll make the music follow. It's almost like a puzzle sometimes, or a problem needing a solution. Very enriching.
In games, music is extremely important. It's like creating, or painting a world. I think it gives more freedom, since we're not limited by a timeline. And like in films, you can give multiple meanings to a single scene. Or none. It's intensely fascinating from a composer's point of view.
It's been a while since I've done a commercial, but I've been doing trailer music for a few years with decent success (like TV spots for the last Star Wars). In those you have to fit into a three act structure. But you can go ham, because all three acts in them are ultra over the top in form, which is something most other media could never justify. It's certainly very satisfying to hear this music on TV or at the cinema, and since a lot of those projects is recorded with a live orchestra, I had the chance to work with the best musicians at Abbey Road Studios, Air Studios. It's the sort of experience which can be its own reward, in a way.
Orchestration is something I like to do in my spare time. Or when I don't want to work. And since those projects requiring orchestration always need live musicians – well, there you go!
I'll add that this year I had the pleasure of working with John Paesano on the music for Penny Dreadful: The City of Angels. So my area of activity got expanded to TV series and I hope it's not the last one.
Penny Dreadful, tremendous! You've mentioned orchestration. What about it, what's the deal with it? You've recently performed this task on Bee Simulator, which received the Best Music for Indie Game award at this year's Game Audio Network. But you also have work on the Witcher 3 soundtrack in your portfolio.
Nowadays, the orchestrator most often gets material as mockups, midi – something made with virtual instruments on a PC and to put it simply, they translate it into sheet music for a particular group of musicians. But it's during this process when the orchestrator fixes any issues with the arrangement, instrumentation, anything that would make the performed piece not line up with what the composer wants.
A few examples of the most common problems to fix:
– the original sounds like it's performed by a 150-man orchestra, yet we have to make do with 30 people 🙂
– we have a limited budget and time to record, so decisions must be made what to record and what to leave out,
– the instrumentation is too "thin" and requires filling out (or transcribing it for a different band),
– the instrumentation is too dense, the instruments go over each other and there are no clearly separated planes,
– the original has inconsistencies – the harmony is unclear, the melody on different instruments doesn't match up, etc.
– the original melody for, say, the flute is low and thus has no chance to pop through the rest of the arrangement,
– there are three flutes in the piece, and we have none in the orchestra 🙂
– the violin part is physically impossible to perform,
– musicians playing the brass instruments need to breathe (!) and have time to rest, which composers forget about very often,
– the composer used cinematic-sounding percussion, while we only have symphonic instruments on hand.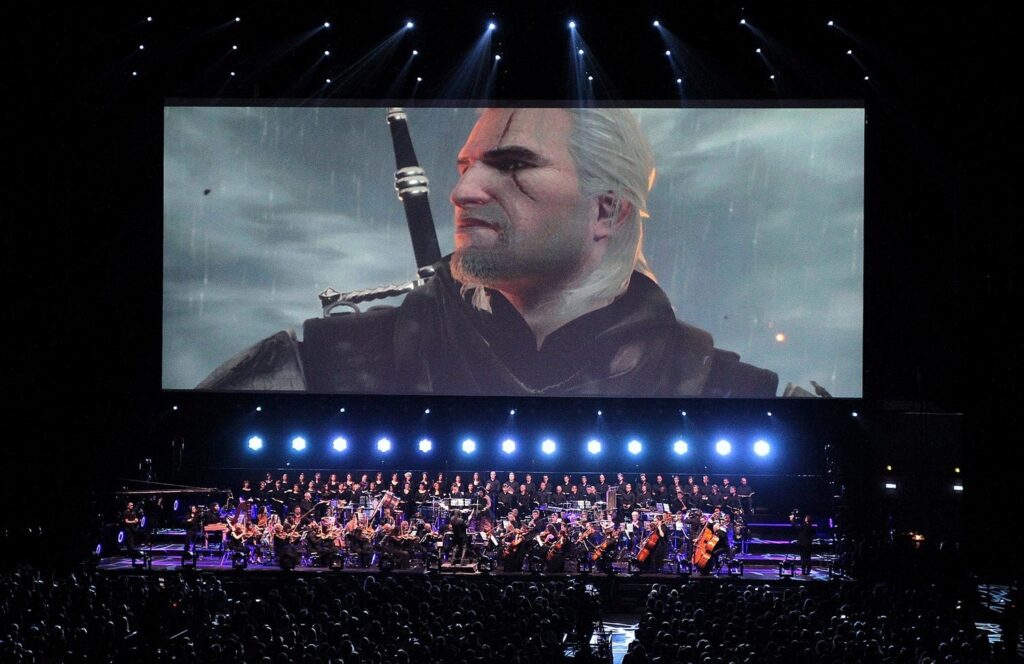 On Witcher, I worked as the orchestrator of the material prepared for the Music Film Festival concert devoted to the music of Witcher 3. It so happened that tracks from "Blood and Wine" were part of the show, so I had the chance to hear my own work as well. Some of the material prepared by me you could also hear during other game music performances, such as Game Music Live or Epic Game Music. I'll add that preparing music for a live performance is something different than doing so for recording – namely it's easier for the latter, since you can handle some things in the mix.
I never formally studied orchestration. You can say I'm learning it from practice. My first serious project in that role was for the music for Bulletstorm. And I thank Adam Skorupa that he trusted me then, thanks to this project I grabbed a major confidence boost. In the meantime I work with Sonokinetic on sample libraries built on the basis of orchestrated phrases recorded with live orchestras. It could be said that it's my extracurricular study of practical orchestration. There's another type of orchestration, which is much rarer in the film or game industries. It's orchestral arrangement, where the source is often non-orchestral material. Or it's preparing suites from specific films or games, like it's done by the guys of Game Music Festival – Aruto Matsumoto, Jan Sanejko and Robert Kurdybacha.
Where do you get the inspiration for many of your projects and what does your creative process look like?
It varies a lot. Sometimes the designers have specific ideas on how the music should sound in a given project and I get reference tracks, as in examples from existing soundtracks. It obviously saves a lot of time since I already know what the producer wants and where I should go stylistically.
But very often and I think more and more so I get a free hand and can experiment. This is a process I can allow myself to participate in if there is a lot of time until launch. That's when I open an entirely empty project, put on some instruments and start drawing. I try to approach this casually and I don't get attach to anything that gets done then. It's a bit of a creative kitchen sink, which can have about 10 hours of sketches of which the majority goes to the trash, let's not kid ourselves. But it's my way of spending time with my ideas and letting them grow. In the meantime I search in other existing games or films, or particular instrumentations, or music of a specific era. This phase can take a few months and if I'm finally pleased with something, I send a few sketches to the devs and we plan further.
Frostpunk was one such experiment.
Since you've mentioned Frostpunk, let's talk about it for a bit. I am especially impressed by your work for it. By the way, please accept my belated, but honest congratulations for receiving the Best Game Music 2019 award for this game. How did those incredible sounds, which work so great with the rest of the game, even happen?
Thanks! It's always nice to hear such praise. Frostpunk is a very special project to me, where the idea for the music was born very early, around the very first teaser. I thought: hey, if we have a frozen world, maybe I should freeze the sound as well. When working on the teaser ("The Fall"), I used the technique of "freezing" sounds. It works like this: I took a sound, or even fully arranged parts of my sketches and tracks, and I stretched them over time, so that a 5 second sound would play over about 2 minutes. It turned out that if I produce them accordingly, these sounds create an incredibly interesting background which works perfectly as ambient for the game, like a glue. Sounds which already contained some sort of movement worked the best, since they evolved endlessly.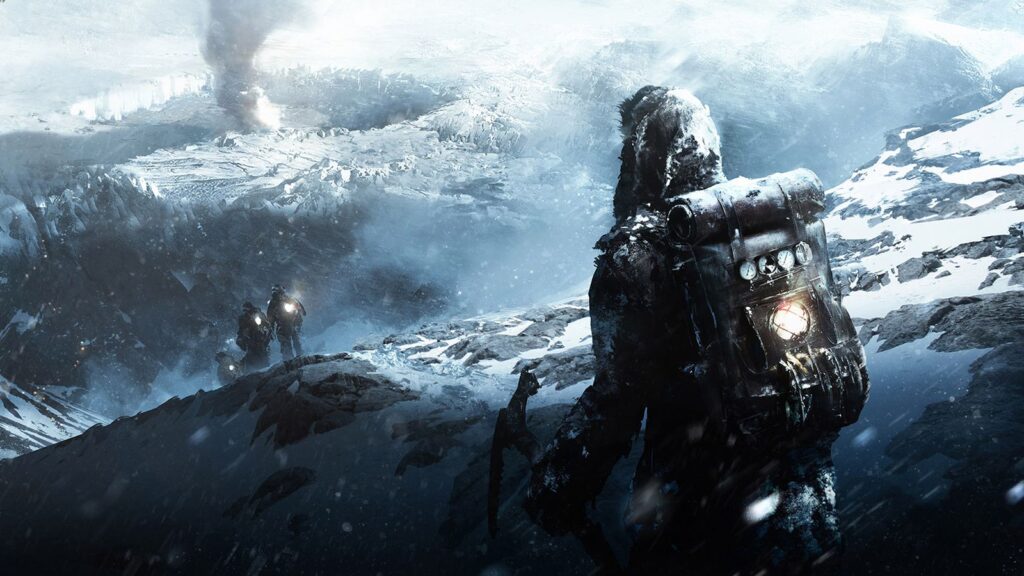 This layer of ambients enriched by additional sounds and not just those coming from "freezing", but also subtle pads, sound effects, became the music of our city where everything, from a macro point of view, happens slowly.
But Frostpunk isn't a typical city simulator, it's a game about people. About their emotions – worries, fears, desperation. So it was important that the music supported the message. To this end I utilized the versatile sound of a string quartet, with a focus on the viola and cello. Thus the emotional layer of the music was made – the music of the people, which attempts to tell of their stories and hardships.
Another important idea when crafting the Frostpunk soundtrack was the constant sense of progress alongside the city's development. Therefore the main themes in this soundtrack constantly evolve and are recalled. Sometimes by being just an echo lasting a few sounds, sometimes a variation on a theme. Varied instrumentations played a major role here. One time you hear a cello solo, another a full quartet, another time a complex part with a string orchestra. It gives the sense of progressing through the game.
On top of that there's narrative development, where the game intensifies in the final days and the music follows.
I am very happy that I got to record Frostpunk with the Atom String Quartet and the Sofia Session Orchestra. Thanks to them, the emotions captured in the tracks are much more authentic.
True, Frostpunk resonates emotionally in an amazing way. Once again: congratulations. How does your typical day of work look like? What happens before such works gets done?
I think a "typical day of work" in this profession is likely a myth, especially when you have two children. I like to get myself in the studio around 12 pm at the latest and leave around 7 pm.
I work and every now and then I make breaks to play. Sometimes I get most creative work done (like sketching) in the first few hours, only to iron out the details towards the end of the day. Other times I have nothing done until 6 pm and I hit the right flow around 6.59 pm. And yet at different times I grasp the solutions at the dumbest moments, like closing the studio doors.
I laugh that my creative process most often looks sort of like this:
1. Open the empty project and panic
2. Play games instead of working
3. ???
4. Done!
It can be chaotic, but I've accepted this and I feel that all of this is okay, which helps me keep balance and distance.
And if I'm chased by deadlines and there's nothing when 7 pm hits, I launch the "how does your typical night of work look like?" plan. And it always works.
Click here to go to the second part of the interview.